Sa'Luqw'a' Community Cousins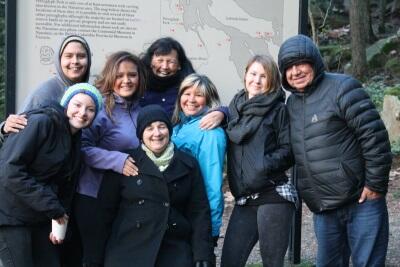 Sa'Luqw'a' Community Cousins is an Indigenous mentorship program that builds leadership capacity among indigenous students who are interested in sharing their success, strategies and tips to new incoming students making a successful transition into post-secondary. It also creates a sense of belonging and community.
What do Community Cousins do?
Meet with new students as requested – community.cousins@viu.ca
Lead Campus Tours
Provide information on resources available on campus and in the community
International Peer Helpers
The Peer Helper Program provides leadership opportunities to current VIU students who are inspired to make positive contributions to our campus community. Peer Helpers are dynamic leaders who possess the training and skills to support their peers through the stages of cultural adjustment.
New students have the opportunity to connect with Peer Helpers during International Student Orientation, or by sending an email to peerhelper@viu.ca to request support from a Peer Helper.
What do Peer Helpers do?
Actively participate in peer helper training & leadership development sessions.
Assist with orientation duties, including new student check-in, ESL testing support, campus tours, ice breaker activities, computer account help & one-on-one support at the Peer Helper Help Desk or upon request.
Use skills from Peer Helper training to provide cultural adjustment support to new students & refer to appropriate campus or community resources where needed.
Participate in International Education initiatives, including discussion groups, festivals and events.
Partake in campus and community events and encourage the involvement of new students.
Peer Supported Learning
Peer Supported Learning (PSL) focuses on courses that students have traditionally found to be difficult. PSL offers free, regularly scheduled, informal study sessions led by a senior student who has been successful in the course. These sessions are a place to get your questions answered, practice using and studying the course content, and develop different learning strategies.Studies show that students who attend PSL sessions generally increase their grade by at least one letter grade. Last year, 72% of students who attended PSL sessions found it to be helpful in learning the course material.
Student Tech Tutors
A student technology tutor is a student lab assistant with the IT department who is interested in providing personalized technical guidance and coaching. Student Tech Tutors are technology ninjas who are ready to help you with the technology you need to complete your course assignments.
What Can a Tech Tutor Help With?
Tech Tutors can provide personalized technical support in:
Using Microsoft Word or Powerpoint
Using VIULearn
Proper file management
Computer safety advice
Privacy advice
The Tech Tutors will be located at the IT Helpdesk on the VIU Nanaimo Campus. The IT Helpdesk is located on the 3rd floor of Building 305 (Nanaimo Library building) in the Library Commons (by Photo ID).
Math Learning Centre
VIU students are welcome to come and get help from fellow students. The Math Learning Centre is staffed by student-tutors selected from Vancouver Island University science programs.