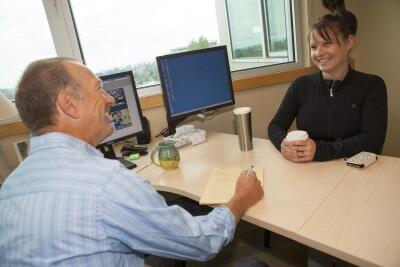 Explore Your Options
There are many different pathways to completing a credential. Talking to an Educational Advisor can be a great way to discover the right path for you and to optimize your chance of success.
How Many Courses Should you Take?
Tips for Undecided Students in Exploratory Studies, Bachelor of Arts or Bachelor of Science Students
Foundations for Success Courses
These new course offerings are designed for students who:
want to learn good student skills in the context of a particular subject area
anticipate struggling with some traditionally difficult first year courses
want an interesting first year course/elective.
Limitation of academic credit should be discussed with an advisor as part of the consultation process on admission. Credit that can be used towards degree completion at VIU is limited to two Foundations courses (6 credits).
Consider an Interdisciplinary Course
These are 6-credit courses, either combined from two existing 3-credit courses or created as stand-alone "super-courses".  They may be a great fit with your educational plan or a way to take a course that is waitlisted.  
What are the benefits?
You spend the equivalent of two courses with the same classmates. You get to know each other and learn together;
Common readings, assignments and coordinated due dates streamline your  workload;
Collaborations, either formal or informal;
Team teaching from the faculty;
"Real-world" assignments on real problems;
Some include the opportunity to complete your Degree English Requirement in whole or in part.
Learn more about Interdisciplinary Studies Courses
Indigenous Focused Courses which also meet the Degree English requirement:
These new course offerings are designed for students who want to explore Indigenous themes while completing the Degree English Requirements.
ENGL 117 (3) University Writing and Research: Indigenous Focus
An introduction to critical thinking and reading, academic writing, and research skills, consistent with the conditions and expectations students encounter as readers and writers at university. Curriculum will focus on Indigenous issues and writers.
ENGL 127 (3) Literature and Culture: Indigenous Focus
An introduction to the concept of literary genres that explores the relationship between literature and its historical and cultural contexts with a focus on Indigenous literature.
Courses that may help you choose your Career:
Many students struggle with choosing a career path. This is totally normal and a common experience in education. Enrolling in a class that provides you with strategies, steps, and tools to make decisions is a great way to gather information and learn about all of the possibilities for your future.
FNFS 102 (3) Finding Careers that Fit: Exploring Meaningful Education and Career Paths
This course develops skills and attitudes necessary for pursuing education and career goals. Students will explore individual learning styles, personality styles, aptitudes, interests, and values and conduct thorough research in order to make informed choices for short and long-term educational and career goals. (4:2:2)
INTP 300 (3) Planning for Upper-Level Internship
Provides opportunities for students to synthesize theoretical knowledge and practical experience within their field of study. By engaging in a variety of self-discovery activities students will identify skills, strengths, interests, values and competencies to inform their search for a relevant and meaningful internship experience. (3:0:0)
Prerequisite: Min. 54 credits completed, including completion of the Degree English Requirement with min. grade of "B" on each class used towards it. You can consider applying for a prerequisite waiver, (space permitting).
VIU also has a number of Internship classes that may be of interest.  Here is some more information on our Internship class options: