If you are living off-campus there are many different ways to travel. You can ride your bike, take transit, drive - and of course walk!
Bike Parking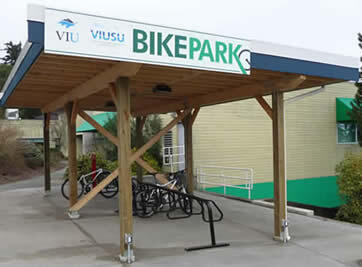 There are two places to park and lock your bike on Nanaimo campus. You can park your bike by the gym (Building 190) or by Building 370. Both of these locations are covered and have a bike repair stand and tire pump available. Make sure to bring your own bike locks and lock your bike securely! Some tips on locking your bike.
There are also bike racks in various locations around campus. Look for the bicycle icons on this Nanaimo campus map.
You can also purchase a spot in a bike locker on a first come, first serve basis by contacting Facilities Services in Building 120, Room 200 or by phone at 250-740-6500.
Bus Service
You can purchase a semester or monthly passes at a discounted rate from your Students' Union. They also sell tickets in books of 10.
You can also access more information about specific transit information for your area here:
Parking
Who Has to Pay for Parking?
If you are driving to Nanaimo campus you have to pay for parking. There are ticket dispensers in all parking lots. If you are driving to Cowichan, Parksville/Qualicum or Powell River campuses parking is free.
Persons with a documented disability can get a special permit from Nanaimo Disability Resource Centre which allows you to park in any designated parking stall. This includes those in Employees-Only lots as long as the particular parking stall does not require a secondary pass or is designated for a service vehicle. Persons with a disability pay for parking on a voluntary basis.
Parking Permits
You can request a parking permit online through your Student Record. Once you log into your student record, click on "Request Parking Permit" about halfway down the page.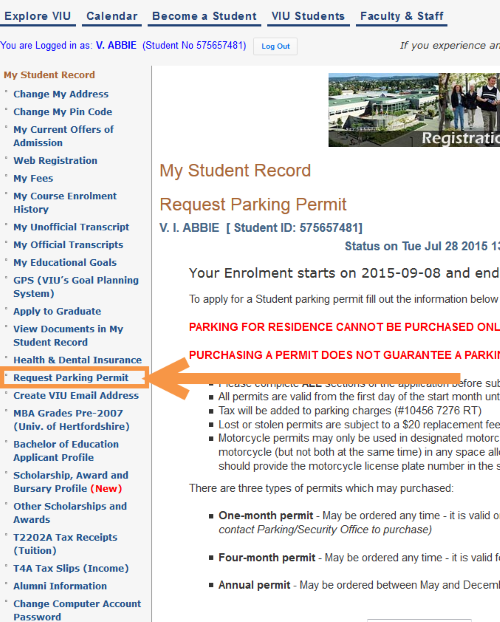 You can only request a 4 month or annual permit through your student record, and your parking permit will be part of the fees in your "My Fees" area. Make sure to read all the directions before submitting your application for a parking permit.
If you want to request a 1 month permit, or you don't want to pay for your permit through your student record, you have to request your permit in person. To request your permit in person, go to VIU Parking/Security Office in Building 315, Room 110. VIU Parking/Security Office hours of operation.